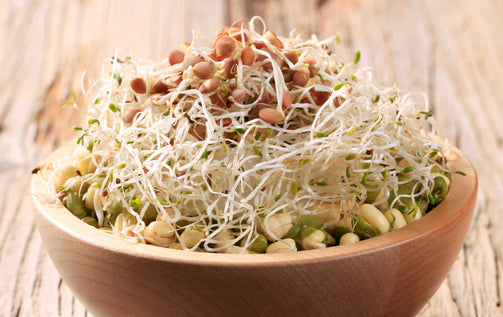 NUTRITIOUS - DELICIOUS - ORGANIC
WRIGHT SPROUTS IS A ORGANICALLY CERTIFIED PRODUCER OF FRESH SPROUTS, GROW YOUR OWN AT HOME KITS AND ORGANIC SEED RANGE.
Have you tried sprouting from home?
Maybe you want to try fresh off the shelf sprouts?
You have come to the right place. Come and check out our online store for all your sprouting from home needs. Along with a list of our fresh sprout stockists.
Happy Sprouting!

Shop Now
Seeds for Sprouting

21

products

Grow Your Own Equipment

10

products

Books

1

products
Showing 6 of 21 products on Seeds for Sprouting collection
Showing 6 of 10 products on Grow Your Own Equipment collection
Featured product
Chickpea Seed 200gm
Regular price

Sale price

$7.50 NZD
Tax included.
Shipping
calculated at checkout.
Chickpea seeds for Sprouting.
Their nutty taste and grainy texture pair well with many other foods and ingredients.
As a rich source of vitamins, minerals, and fiber, chickpeas may offer a variety of health benefits, improving digestion. 
Additionally, this legume is high in protein and makes an excellent replacement for meat in many vegetarian and vegan dishes. Check out our Chickpea Sprouted Hummus recipe on the Wright Sprouts website.